Tuesday, October 18, 2011
Warning: If you would prefer not to fall in love with another social media site that will suck you in and take away from your dish washing and laundry folding click away quickly;)
Here are a few of our most recently pinned projects.
From my board titled Organizing Messes:
I had already been gathering the materials to make this wipe off frame planner when our moms' group decided to put them together to help us learn - and teach our children - some key verses. I went a little crazy with all of my paper layering, but really enjoyed putting this project together.
In Searching for My Style:
This scarf was incredibly easy to do even with my very limited sewing skills. This was my first attempt. The white elastic thread was much more obvious than I liked. When I made scarf #2 today, in a deep teal color, I used elastic thread that matched the material. I am much happier with the way it looks!
My best spent Pinterest invite went to my mom who is also hooked! She has collected several neat holiday links and my kids are lucky enough to get in on the creating with her.
During girls night with Gram Anne Hope put together her own adorable Hello Kitty pumpkin.
When the boys were visiting they made Witch Hat Cookies, which would be pinned to my Delicious Edibles board.
Pinterest + List Lady = Longer To-Do List LOVE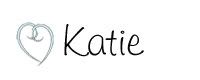 Posted by

Katie
at 10/18/2011 10:09:00 PM
2 List Readers said...


Thursday, October 13, 2011
This place. I run here to unload all the idea that collect in my mind. This is a place to share the fun, the successes, the results of my creative juices. It has been weeks since I hit the publish button on the black on white in my drafts folder. Honestly, the easy thing to do would be to fill the empty space with a cute picture of Anne Hope on our trip to the apple orchard or Gavin standing around in the midfield during a Saturday morning soccer game. The truth is there is so much more going on in our world right now. A few balls that need chasing. I'm doing my best, but I could probably do better if I had my shoes on.
But, my shoes, they were left behind at our last visit to therapy.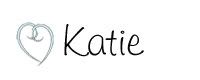 Posted by

Katie
at 10/13/2011 09:43:00 PM
3 List Readers said...