I am thrilled to share my blog with my sweet friend Haley, from Love Life Family & Then Some. Haley was my roommate extraordinaire for two nights at Cupcake '10. We spent a great afternoon relaxing, visiting, and debriefing after an amazing event. In the short time I spent with Haley I realized that we will be friends for a long time.
In the days just after we learned of Gabe's spina bifida Haley offered to fly to Holland to be with me. I remember explaining to Kevin that it was much more than just an empty offer. Haley would do anything for her friends. No. matter. what.
Today Haley is helping us all out with her suggested lists of "Must Haves" for a new baby, written from her perspective as Jackson's mom!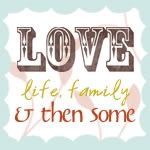 My son could not live without these! It was the only brand he would use...and yes, he could tell the difference! I like them because they have really cool designs...lasted a long time, and they are BPA free. Plus if your child has a latex allergy they also make an alternative paci in another material.
Jackson hated being in his car seat until he was almost 5 months old...he would cry in it till he fell asleep...and I always felt so terrible about it and picked him up. It really made my stroller/carseat combo I bought pointless and it meant trips shopping or to the park were spent holding him (I didn't know comfortable options for wearing him yet, see below) which was sometimes difficult. A friend had a stroller with a carry cot that I got to try out one time and J loved it! I think because he was able to lay down comfortably. For my next baby I will skip the stroller that the car seat fits into and just go the carrycot route. What's also awesome is the cot can double as a bassinet at home! And, when baby is old enough to sit up in the stroller, you just take the carry cot off! Perfect!
Sakura Bloom Sling
For newborns, there is nothing better than one of these. You can have your baby so close, have your hands free, and be comfortable...all while looking super stylish. I'm kicking myself for not knowing about these when J was born! I will have one for my next baby....no doubt!
Ergo Baby Carrier
When baby gets a bit bigger having one of these is a must! These are SO comfortable to wear for both mom and baby...and with the little sunhood, you can go just about anywhere with these!
Svan Bouncer
I love this one because it's not in goofy primary colors that will totally clash with everything in the room. It sleek and stylish, plus it's small - so it's good for travel. Having one of these was a life saver when J was new...he liked his bouncy seat even more than his swing or stroller as an infant...and I could put him in it and bring him in the bathroom while I showered so I could still see him.
Thanks for the great list Haley,