(Sounds so official 'huh?)

For those of you who love to find a great blog giveaway...

are hosting a fun giveaway right now...

or are trying to figure out how to drum up some traffic for a future giveaway listing...

let me introduce you to Friday's Gracious Giveaways at Our Homeschool Fun.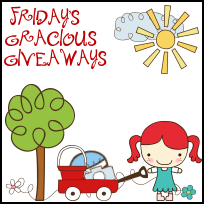 Each week you will be able to link up your current giveaway at Friday's Gracious Giveaways. The link will also be a great resource for you to check out and enter all kinds of fantastic giveaways, related to teaching, learning, playing with, and growing, intended for: moms, families, kids, babies, and teachers. Susana is currently featuring the 3 giveaways I have running: Mahalo, Jump Start, and Bloem & Grow, as well as several others! Take a look & try your luck!